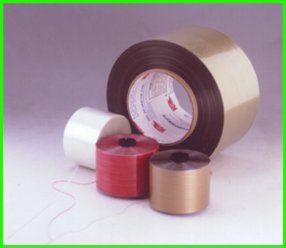 Teartape is a widely used system to open the package of various kinds of products like Cigarette, CD and VCD disk, Audio and Video cassette tape, Chewing gum, Biscuit, Circuit board and also Carton box, Envelope etc., As a world leader in the teartape manufacturing industry, we can supply you with various kinds of teartapes to meet your needs.
ITEM
WE CAN PRODUCE
Remarks
Color
Clear, Solid Red, Red Line, Solid Gold, Gold Line, Solid Silver,Silver Line, Metallized Gold, Metallized Silver, Metalogo™, Hologo™
Customized Colors and multi-color teartapes are available
Width of Teartape
1.6mm, 1.8mm, 2.0mm, 2.5mm, 3.0mm, 4.0mm, 5.0mm, 6.0mm
Other widths are available on demand.
Inner Diameter of Core
29/30mm, 82mm, 152mm
Length of Teartape

Max.24,000m for 29/30mm core.
Max.50,000m for 82mm core.
Max.150,000m for 152mm core

Adhesive System
Self-Adhesive ( Pressure Sensitive ), Wax-Coated ( Pre-Waxed, Heat-Activated), Plain
Shrinkage
Normal teartape, ShrinkMate™ teartape

ShrinkMate™
is specially suitable to use with heat shrinkable wrapping film.